"MINDS ON MUSIC" MUSIC SCHOOL DESIGNATED AS FLORIDA'S FIRST STEINWAY SELECT STUDIO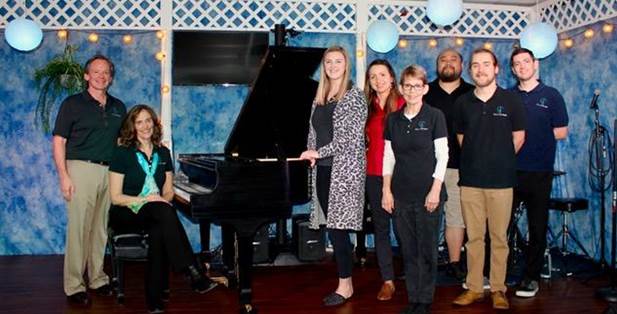 GULF BREEZE, Fla. (March 3, 2020) - Minds on Music, a premier private music school, is celebrating the unveiling of a new Steinway L grand piano and its designation as Florida's first Steinway Select Studio during a concert at 6 p.m. on Thursday, March 12.
The event will be held at Minds on Music, 3206 Gulf Breeze Parkway in Gulf Breeze, Florida.
"Dr. Kadisha Onalbayeva, an award-winning pianist who has performed at venues including Carnegie Hall, will perform along with Minds on Music teachers during the unveiling," said Kelly Koch, co-owner of Minds on Music. A Steinway artist, Onalbayeva serves as artist-in-residence at the University of Mobile.
"We love our students and families and strive to provide the highest quality in our methods and instruments," stated Koch. "Steinway pianos are the pinnacle of excellence and we are thrilled to be able to add a grand and two uprights to the school."
The designation as a Steinway Select Studio offers a number of benefits. "Being able to welcome visiting Steinway artists for master classes and workshops with our students is a fantastic learning opportunity," Koch continues. "We plan to have all of our teachers Steinway- verified, adding to their personal growth and giving our parents the assurance of a quality music education experience."
Minds on Music was established in 2013 by husband and wife Thomas and Kelly Koch. Thomas was a robotics engineer with degrees in physics and mechanical engineering and Kelly was co-owner of Vet Solutions, Inc. The Koch's attended a symphony lecture on music and the brain that changed everything for them. Eventually, they switched career paths. "Teaching music has become more of a mission than a business for us," Thomas Koch said. "The positive power of music on the brain cannot be overstated. Leading a music school and studio is the most purposeful job I've ever had."
The Koch's said they believe in meeting students where they are, incorporating the best instruments and technical tools to teach with the added benefits of a state-of-the-art recording studio. Students learn pieces and traditional exercises, then both audio and video recordings are utilized in the studio as a visual feedback learning tool.
"Thomas and Kelly are promoting excellence for their music students by offering a talented teaching staff and great curriculum to serve their community," said Christy Myers, owner of Steinway Piano Gallery Spanish Fort. "Now, with the Steinway Select Studio designation, Minds on Music is offering students the opportunity to learn and progress in their piano skills by practicing and performing on Steinway pianos. It is an honor and a privilege to partner with them in their commitment to musical excellence."
ABOUT MINDS ON MUSIC
Minds on Music is the Gulf Coast's premier private music school serving Gulf Breeze, Pensacola and Navarre, Fla. Founded in 2013, Minds on Music offers private lessons in piano, guitar, voice, drums, ukulele and bass guitar. Audio recording (Pro-Tools) lessons and classes are also provided. Learning opportunities are available for ages beginning at 6 months to adult. For younger students, a pre-piano program is available for ages three to five and a MOM and Me Music class for ages six months to three years. The school has a structured and dynamic approach to learning music, with a proven curriculum, a state-of-the-art recording studio and an on-site training stage for performances. For more information, call 850.420.6473 or visit www.mindsonmusic.net.